HIGH PRESSURE SAFETY SYSTEM
In the mid 1970s the offshore industry in Brazil started the development of numerous oil discoveries in the Campos Basin.
Water depths, environmental conditions, but mainly timescales and costs precluded the use of the traditional fixed platforms seen elsewhere in the World and the Petrobras projects looked to the use of semi-submersibles as the optimum solution.
Taking existing drilling rigs and converting to production facilities was quick, easy and economically extremely attractive – The operator had a 4 months conversion project timeline instead of, with a new build, up to 4 years from start to first oil. The major obstacle with this concept was, however, how to feed the platforms from the subsea wells.
Flexible high pressure hoses were already being utilised for short length seabed flowlines and proven successful. Petrobras saw such flexible lines as a solution to the risers needed for the semi-submersible production platforms. The first flexible risers were installed and went into service on the Enchova Oil Field in August 1977. This was followed by numerous other similar installations that followed in the late 70s/early 80s.
The key issue with the use of ex-drilling semi submersibles was the ability of the mooring systems to withstand the long term operational demands imposed by the environment, the increased deck loads, etc. and ensure the platforms would remain in their intended location to allow for continuous production to take place. Precautions were needed to protect the platforms and subsea installations in the event of platform drift off or excessive excursion as well as other unforeseen situations that may occur through field life.
Working together with Petrobras and the flexible riser vendor, MIB was asked to look at the development of high pressure Quick Connect/Disconnect Coupling (QCDCs) to be installed at the riser to vessel interface. These would range from 3" to 12" flowlines with design pressures up to 5,000 psig, as well as associated umbilicals/electrical lines necessary for the complete production scenario. They provided the necessary 'quick release/ capability but also acted as installation aids during initial riser deployment.
The MIB units were installed, dependant on each individual platform, either at deck or pontoon (submerged) levels and included pull-in and guidance features as well as the necessary dual isolation valves on each flowline. MIB not only provided individual line units but also multiple function QCDCs (with product and gas lift flowlines, wellhead control umbilicals, electrical interfaces for downhole monitoring systems and so on).
The success of these pioneering developments soon led MIB to providing even more sophisticated, customised designs of QCDC to other major and diverse projects in UK, Norway, East Canada, Australia and beyond.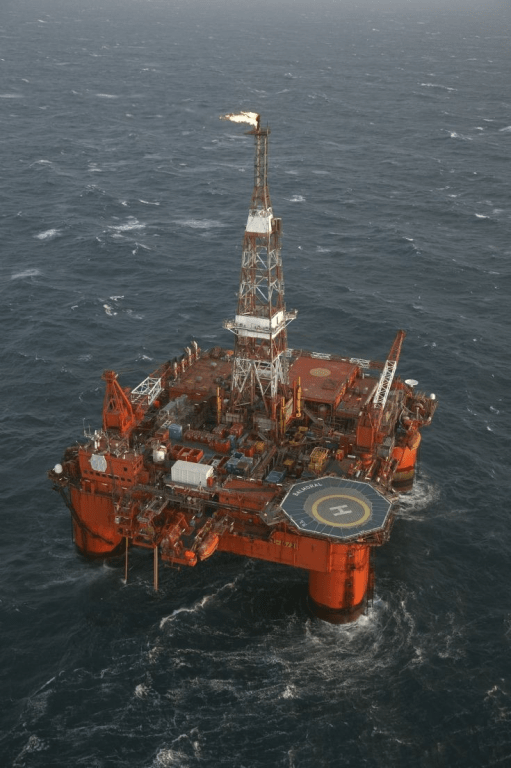 The photograph below shows the Balmoral FPV in the UK North Sea – the first such installation using flexible risers and single dual and triple line MIB QCDCs.
RISERS & UMBILICALS CONNECTORS