LNG IMPORT & EXPORT TERMINAL SAFETY SYSTEMS
The LNG industry had its inauguration in the USA in the late 1940s, but not until 1959 we saw this expand internationally with trade between East Coast producers and the UK.
Up to this point the US activities had been restricted to small scale, extremely basic terminals and vessels, generally unconcerned with the issues involved in the trans-shipment of such volatile cargoes.
Other countries joined the LNG club, including the major developments in Algeria and elsewhere, but it was not until 1970, when the first major large scale LNG exports were being developed by Shell International in Brunei that the spotlight turned in the direction of safety.
Shell and the partners needed, not only the assurance of protecting their long-term supply contracts with the Japanese power generation giants, but enhance the safety for their purpose built fleet of seven LNG Carriers (LNGC) and the huge investment in the Brunei liquefaction plant and its infrastructure. The consequences of an inability of loading LNGCs at the terminal – at the vital shore to ship interface – was quickly recognised as a key issue for the multi-million dollar project.
Up to this point, LNG was not a widely known subject and when Shell approached several well-known connector/valve suppliers, no individual company was willing or able to take up the challenge of developing a cryogenic shore/ship safety system.
Although MIB was, at that time, a relatively little known supplier (with their activities to date centred in Italian petro-chemical plants and terminals) once approached by Shell and subsequently understanding the special needs involved in LNG transfer, the world's very first Cryogenic Quick Connect/Quick Release LNG system was developed, built and tested to the extremely stringent levels and standards required by the project.
This project not only provided a major step forward in safety for the LNG industry but, due to the resounding success of this pioneering project, rapidly elevated MIB into the international arena. Since 1972 MIB have continued to develop new and more advanced solutions for both petrochemical and liquefied gas terminals worldwide.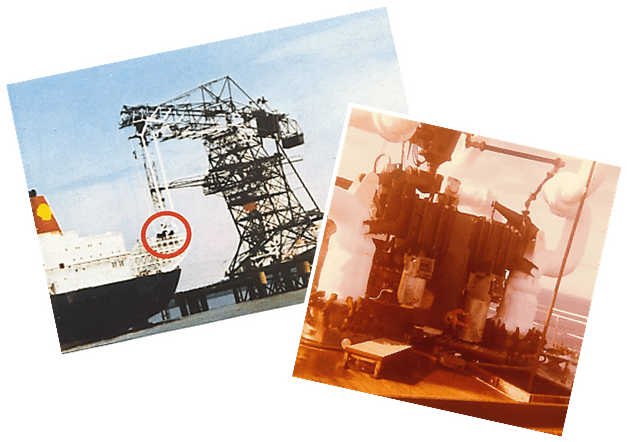 First ever world-wide developed QCDC for LNG service.
LNG OFFSHORE MARINE LOADING ARM
CONVENTIONAL MARINE LOADING ARMS